TimeSaver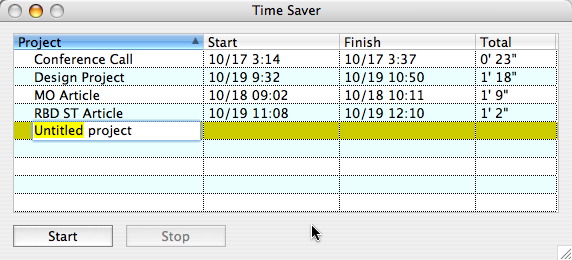 Description
---
TimeSaver is a tiny program for keeping track of how much time you spend on various projects. It's designed to be dirt simple.

You have one project per line and you can set the start and stop times for the project. That's it. TimeSaver will calculate the amount of time spent, and it allows you to copy the results for pasting into another program. You can continue a project after stopping it, and TimeSaver will continually add up the cumulative time spent on that project. You can create as many projects as you like.

TimeSaver saves all the data in its preference file -- there is no saving, opening, or creating of files. TimeSaver handles all that transparently. It is designed to be launched as a Startup Item so it's always around, ready to record information.
Download
---
The latest version of TimeSaver is 1.5 (Oct. 19, 2006):
TimeSaver Universal Binary (Mac OS X PPC or Intel) (2.6MB download, zipped)
TimeSaver for Classic Mac OS (System 9) (1MB download, stuffed)
Beta Release of TimeSaver for Windows (Windows XP) (1.2MB download, zipped)
---